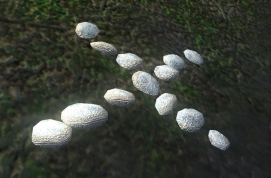 An examination of the map and notes has you checking out the Temple Grounds Cloud station.
Explore around the Temple Grounds Cloud station.
You will find an X made out of stones on the ground at -262.46, -19.46, 18.73 , near the cloud station to Vultak Scavenging Site.
Clicking any of the stones instantly teleports you onto a hanging branch underneath Temple Grounds isle, walk forward along the branch to the treasure!
Find an X on the ground, click it, and follow the line to the treasure.
Ride the updraft back (click the blue sparklies on the root). Note: If you converted your cloud mount into a house item before clicking the blue sparklies, change it back into a mount to be able to interact with them.
Return to Bilgeron.
Your reward is a new mount, a Self Contained Cloud, with 45% runspeed and Featherfall.
This page last modified 2014-02-16 22:14:09.