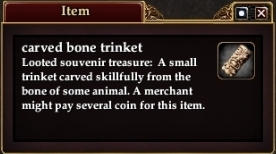 Looted Souvenir Treasure
While there is a lot of loot in EQII that's "vendor trash" (having no purpose but selling to an NPC), items with a description that reads
"Looted (something) Treasure"
has a higher selling price than regular trash. They can drop from almost any mob in any zone, but are quite rare. Many give AA experience the first time you loot one (but not when traded or purchased on the broker).
The only known use for Looted (something) Treasure is making money off NPC merchants.
Varieties include:
Looted Antique Treasure
Looted Arcana Treasure
Looted Curiosity Treasure
Looted Treasure
Looted Precious Treasure
Looted Souvenir Treasure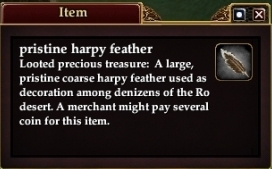 Looted Precious Treasure
This page last modified 2010-10-29 08:38:28.