He wasn't kidding when he said things would be different.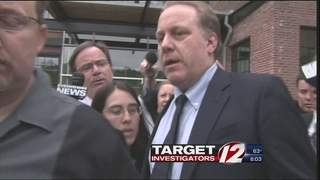 Curt Schilling, fresh off of his liquidation and auction of all the assets of Project Copernicus, 38 Studios, and Big Huge Games, is now being sued by the Rhode Island Economic Development Corporation, the very same RI EDC who gave him the $75 million dollar loan. The order undoubtedly comes from Rhode Island Governor Lincoln Chafee, who was promised the return on the game development studio.
But he's not the only one on the chopping block - Keith Stokes, former EDC executive director, is also being sued, as his approval of the loan to rookie game developer/director/brand owner Schilling was what led to the events. They are seeking damages to offset the roughly $100 million that taxpayers of Rhode Island could be looking to foot.
Chafee, himself, has been outspoken that the reason for the lawsuit is "with the clear goal of protecting the taxpayers of Rhode Island," and that "the board's legal action was taken to rectify a grave injustice put upon the people of Rhode Island."
Julian "Mirai" Williams