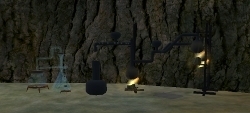 Makeshift Alchemical Lab
Climb up the tree with the high mushroom cap in Tunare's Glade.
Use the climbing tree at -260, 57, 511 to get up there.
Investigate the Makeshift Alchemical Lab at the top of the high mushroom cap at -250.41, 91.47, 493.24 .
Return to Princess Zhyleen for your reward.
This page last modified 2010-08-24 00:27:58.