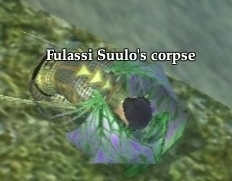 Speak to
Peetriini Suulo
, at
326.65, -19.86, 155.10
Search the Shadowed Grove for Fulassi Suulo's corpse, which is at 718.90, -33.31, 484.93 .
Examine the corpse to receive the uniform and personal effects of Fulassi Suulo. This can be done while invisible.
Head back to Peetriini Suulo and give him Fulassi's personal effects.
This page last modified 2010-03-06 16:51:51.