Examine one of the cloaks to obtain he quest.
Speak to Collector Rattelis in the Legends of Norrath Museum.
The three loot cards that you need to obtain in Legends of Norrath can only be received from opening up the Travelers expansion booster packs (released October 13, 2009).
This is a quest crossover between EQ2 and LoN. You get the quest in EQ2, get the items in LoN, and complete the quest to get your reward back in EQ2.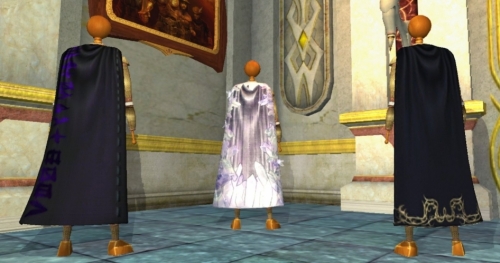 left to right: the
Cloak of Runes
, the
Cloak of Crystal Shards
and the
Assassin Master's Cloak
This page last modified 2010-03-22 11:21:43.