This quest is given by Hoggle Bogstrutter after you complete the Scattered Notes quest.
The first thing you will need to do is read the entire Bogstrutter Isle Guide.
Visit a number of landmarks on Zek. This is similar to the Tour of Antonica/Commonlands quests.
After each landmark, you examine the book for information on the next.
Bogstrutter Cove: 503, 0, 262
Greenspire Wood Inn: 337, -20, -465 or 637, -17, 22
Rustic Pond Resort: Near 293, -20, -350
Rodcet Steam Hall: 687, -17, -323 inside of the caves
Celestial Abyss: This is just down the elevator at the Orc Mines 343, -114, -118.5
Windspirit Round: Druid Ring 228, 14, 93
Spiralball Arena: This is the spirit lake with the spiral path and the NPC in the middle -58.5, -3.65, -71.6 . VERY IMPORTANT not to step in the water or you will spawn a large number of monsters who will surely kill you.
Pirate Bay: 146.82, -44.57, 396.31 on Siren Island
Tower of the Titan: -23.71, -47.11, -351.56 on top of the large rock
Castle: -162.16, -25.11, -615.68 out front of the Deathfist Citadel
After visiting them all return to Hoggle Bogstrutter at the docks for your choice of breastplates. This also opens up the A Tour of the Feerrott quest.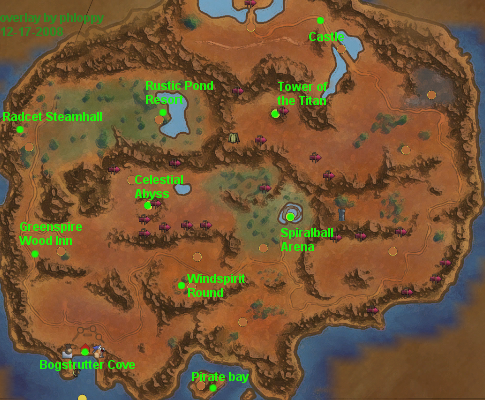 This page last modified 2009-08-03 10:09:21.