Sneak into the Thexian Camps in the south-eastern part of the zone and poison their drink supplies. There are three wooden kegs in the tent next to the high dragoon at -589.56, -61.47, 484.41 . Examine each for the update. The Thexians in this section of the camp are Heroic, so proceed with caution. It is possible to slip in undetected if you keep your eyes open and remain patient.
Return to Uric M'Ots for some cash and your choice of rewards.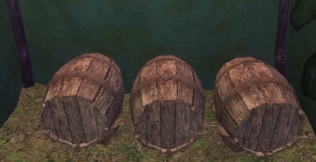 Thexian brew barrels
This page last modified 2013-10-09 22:10:30.