Orcs were chasing him? Unlikely, unless they had blue skins.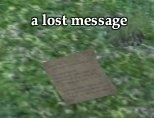 Harvest lost messages on the ground in
The Sharpthorn Thicket
, not far from the entrance to
Greater Faydark
, around
-660, 54, 190
.
Kalmath Gusinga won't speak to you until you are on or have finished An Important Delivery (LFay).
Return the messages to Kalmath Gusinga
This page last modified 2011-01-03 05:44:49.