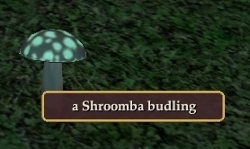 Sentry Talvee
has asked that I find and return as many of the stolen blooms as I can. Beware the guard bixies near the baskets of stolen blooms!
Collect one basket of fae blooms.
THe hive is east at -151, -44, -453 . The basket is below it at -152, -42, -534 You'll have to kill some Klixie soldiers to get to it.
Return to Sentry Talvee.
This page last modified 2010-08-25 14:21:51.