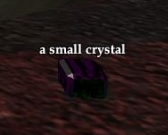 a small crystal
Now you need to go hunting for a crystal. The cave entrance is at 1360, 5, 3943 .
Once inside, you will see lots of a small crystal.
Pick one of these up for your update and use it on the lens at 1809, 4, 4353 in the observatory.
Return to Saihah Al'Lad to complete the quest.
This page last modified 2013-09-30 07:24:51.