This is the second quest in the Solusek Ro deity line. It can be taken once you complete Ro's Flame.
Civean wants you to travel to Steamfont to collect 15 magma cores and 10 magma crystals. The crystals can be found in Gnomeland Security Headquarters from Finbert's "Salesbot" for 16s,98c each. His location is -582.29, 174.69, 963.52 .
The Magma Cores are also in Steamfont, and are located around -849, 135, 681 which is a crater nearby. The cores are found by harvesting nodes called "Cooled Magma". Only one person can harvest at a time, so groups will need some time to get updates. Grikbar crater also spawns Cooled Magma nodes, it is located across the zone to the southwest. Return to Civean after you do this.
Next, you need to return to Steamfont and kill a crazed Kobold at the northern edge of the Mazkeen crater. His name is Grak Shattersnout and wanders near -741, 132, 640 or -812.67, 154.25,660.99 . Return to Civean after you kill him to complete the quest and collect your reward. This also opens up the next quest in the line, Ro's Vessel.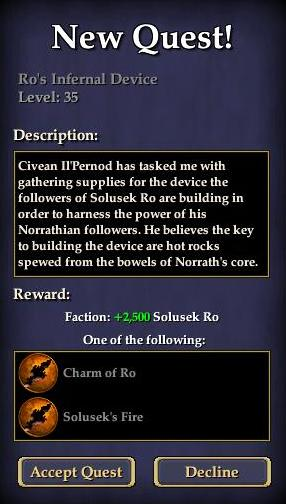 This page last modified 2009-05-15 08:11:53.